October 6th, 2013
If you have ever looked through my galleries of work over the years you know that I have a vast array of subject matter. Everything from old barns and abandoned buildings and asylums, industrial spaces and mysterious spaces, and also pinup and portrait work.

There was a contest here on Fine Art America recently called Passion for Pinups. Cindy Nunn, a member here on FAA put together the contest and brought in 8 distinguished jurors from various pinup magazines, ezines and blogs. To my surprise (there were many very good entries) my photograph "Jade Vixen Bubblegum 1098" came in 1st place. I was contacted later by many of the judges for a bio and interview as well as some other photos and was shocked to learn that many of them already knew of me and my work.

I had put aside doing pinup and studio work for the time being as my current work commitments made it difficult to coordinate photo shoots, but this has been encouraging and perhaps I will think about getting back to it again sometime soon.



1st place
September 24th, 2013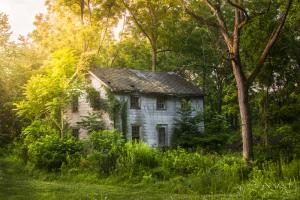 This past July 2013 I headed out to Dutchess County, New York State to see an airshow of old vintage aircraft. The show was scheduled for Sunday afternoon, but I had left my home at about 3:30 in the morning because I wanted to venture about the area and see what the early morning light would reveal.

I had made my way up and as I turned off a road into an area near Rhinebeck called Red Hook, I saw this old abandoned (seemingly, you never know) house nestled in the woods. It was one of those moments when you stop breathing, your holding your breath in a sort of state of anxiety I suppose. For me, I feel like a kid in a candy store when I come upon these mysterious and wonderfully intriguing sights. Abandoned places seem to give me that thrill. What's the story here? Why would a beautiful home like this, in an amazing location be abandoned to be reclaimed by the woods?

The location was absolutely quiet with barely a rustle of a leaf in the wind. The buzzing from the pesky mosquitos I had to deal with were pretty much the only sounds I heard.

I shot this scene from various angles so as to have a selection to choose from when I viewed them later on the computer. I find its always best, especially if you have the time to give yourself many different angles and compositions to later choose from. I shot this with a 70-200mm 2.8L IS Canon lens at a 70mm focal length. F11, 1/8th at 125 iso.

The airshow at the Aerodrome was great that afternoon, and I have some pics in the workings that I'll post later but I think my favorite time of the whole day was the early morning venture.

A quiet beautiful morning with a scene like this in front of me, cup of black coffee in hand and my camera gear set up. Life is nice.
September 24th, 2013



As my friend and I were headed back down towards New York city from the Rhinebeck, N.Y. area, I spotted this gem and yelled "Stop!" This was actually still in or very near Rhinebeck. It must have been a beautiful home at one time and circumstances caused it to become neglected and/or abandoned.

These abandoned homes always make me wonder about the back story, what happened and at what point did it no longer become a place someone called home. Perhaps an elderly person or couple passed away and there is no family around to care for the house, or maybe not ready to move on.

It does look as though there may be someone going in or out of there at times as noted by the trampled area of vines in front of the doors.

I shot this from across the road which may have been about 100ft away using a 70-200L 2.8 IS Canon lens. This allowed me to frame it as I did including the steps, porch and awning trimmings and side windows compressed into a neat composition without distortion. It was shot at about 148mm using three bracketed exposures which were later blended together in Photomatix Pro and then cropped and color adjusted in LightRoom 4. The IS (image stabilization) made it easy to hand hold this shot at those settings (slowest shutter speed was 1/40) and still have it all very sharp.